Biodiesel Fuel
TBI sells premium B100 Biodiesel to commercial customers, fleet customers, government, petroleum blenders and distributors, power generation customers, and the general public.
For more information about just what Biodiesel is, please visit our Facts and Information page.
Where to Purchase in NC
Customers can purchase B100 directly at the production plant from our fuel pump located on site. We accept most major credit cards and are open weekdays from 9am to 5pm.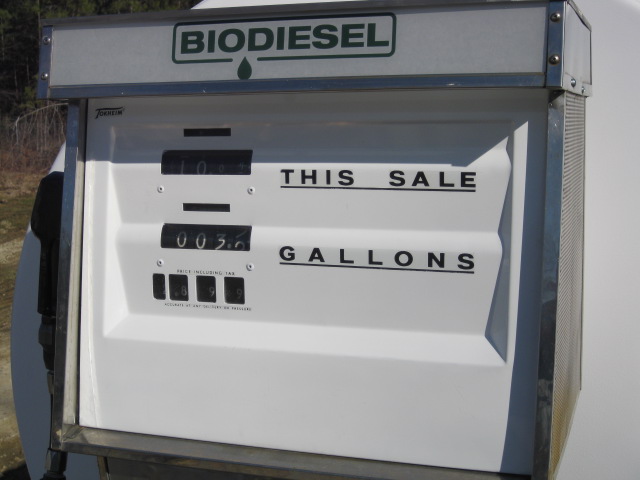 Bulk customers can top load at our terminal rack or we can deliver via tankwagon or transport tanker.
We will be establishing B100 and B20 pumps throughout the Triangle region as we can. If you have a suggestion for a retail site in the Raleigh/Durham area, please let us know.
Wilson, NC - TBI sells B99.9 and B20 from retail pump location Monday - Friday, 8 a.m. to 5 p.m. Call or check our website for the current price.
You can also find B100 througout the state of North Carolina on the B100 tank trail.
The NBB also maintains a list of distributors in the state.
If you would like to order biodiesel, you can contact us using the contact form, or call us to order. We can supply B100 or any blend down to B5.

Put a fuel tank at your house
Section 1342 of the Energy Policy Act of 2005 provides buyers of residential refueling equipment a tax credit of $1,000. Such equipment would include storage tanks and dispensing units for biodiesel cars and trucks. Alternative fuels for purposes of this credit include mixtures that are at least 85-percent ethanol, natural gas, compressed natural gas, liquefied natural gas or petroleum gas or hydrogen, as well as biodiesel/diesel mixtures of at least 20-percent biodiesel. A larger credit of up to $30,000 is available for commercial property. To claim this credit, qualifying property must have been put in service prior to 2010 or, in the case of hydrogen related property, 2015.

Biodiesel Benefits
B2 - 2% Biodiesel, 98% petrodiesel. Increases lubricity by over 63%. No negative effects on any engines. Common additive for Ultra Low Sulfur Diesel Fuel to replace lubricity lost by removing sulfur.

B5 - 5% Biodiesel, 95% petrodiesel. Increases lubricity, reduces emissions. Approved by all diesel engine manufacturers. Proposed Federal legistlation to require B5 to be sold by all gas stations by 2010.

B20 - 20% Biodiesel, 80% petrodiesel. Offers between 20-50% improvement in vehicle emissions. Very common blend for fleet and shipping transportation use because of emissions improvements, yet has virtually same price and performance of petroleum diesel.

B50 - 50% Biodiesel, 50% petrodiesel. Common summertime blend. Can also be used for home heating oil blend to reduce emissions. Can be used in Wintertime as well with proper additives and precautions.

B100 - 100% Biodiesel. Reduces emissions by up to 80%, virtually eliminates smoke and soot. Biodegradeable, non-toxic, extremely safe fuel. Used year round in our entire truck fleet, our generator, our boiler, our heating system, and personal vehicles here at the TBI plant!
Biodiesel Markets Served:
Commercial Fleet Trucks and Vans
Agricultural
Domestic Heating Oil
Petroleum Distributor Blending
Personal Transportation
Power Generation
Heavy Equipment / Off-Road Equipment
Marine / Boating
Government / Municipal Fleet Contracts