We are selling out 1970 AMG M35A2  2½-ton truck.   This is a also known as a "Deuce and a Half".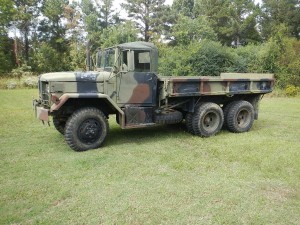 The engine is a multi-fuel inline 6-cylinder motor with turbocharger (D series, or "whistler") that will run on biodiesel, diesel, gasoline, motor oil, kerosene, or transmission fluid.   Of course we have run it on biodiesel for a while, currently it is running B20 biodiesel.
The truck operates as a 6X6, with an air shifted front axle (just flip a switch to engage front wheel drive). It has been newly re-upholstered.  New batteries installed.   Air windshield wipers work. Black out lights installed. Two speed transfer case. No rust. This vehicle has a clean North Carolina title and is street legal. You do not need a CDL to drive it. Drive this thing anywhere, we were never able to get it stuck in even the thickest mud.
Price is $6,500.00 (negotiable), and includes a tank of B20 biodiesel fuel.   Buyer must arrange any shipping and pay all shipping costs. Vehicle is in excellent working condition but is sold AS-IS.  Get this truck and have fun with it!
You can view a video of this great running truck here.